Facial Laser Hair Removal
There are many ways to hide facial hair, but in the end stubble and ingrown hair inevitably return. The face is a first impression, the first thing people notice about you. Don't let fuzz get in the way of your confidence. Get silky smooth skin on your chin, sideburns, lips and face using laser hair removal. You'll have glowing complexion in no time.
A Smooth Face for Everyone
Facial skin is one of the most sensitive areas on the body. Shaving and plucking cause irritation and other side effects, no matter who you are.
Fortunately, there is a way to permanently, safely and effectively remove facial hair without causing any lasting irritation. Facial laser hair removal provides quick, safe and long lasting effects without any accidental nicks, cuts, or bumps. Laser hair removal works by emitting a beam of light into the hair follicles. The pigment in your hair conducts the heat of the laser to the follicle, permanently damaging its ability to produce hair.
Facial treatments can usually only be performed in a few minutes. In just 10 minutes you'll be one step closer to having the smooth and beautiful skin that you've always dreamed of. It's so short, you could even be treated over your lunch break.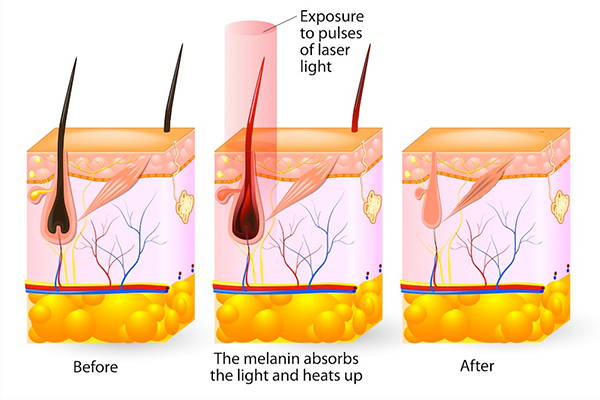 Women's Facial Hair Removal
Many of your female friends may commiserate with the experience of waxing fuzz off the upper lip or plucking the chin. Facial hair can feel embarrassing and be annoying to constantly remove. Here at Satori Laser, we perform quick and safe laser facial hair removal to get rid of your unwanted hair and free you from the need to pluck or endure painful waxing.
Men's Laser Facial Hair Removal
Are you tired of shaving your beard or shaping your beard line? We can help with that. At Satori Laser we can make you look polished without the burden of nicks, cuts and razor burn. You can remove your whole beard, or shape it to your personal style. We also can help you get rid of that unibrow. Your skin will thank you.
What If I Have a Dark Complexion?
All of our laser centers carry both the Alexandrite and Yag machines. While our Alexandrite machines are used to serve clients of fairer complexions, our Yag laser is designed especially to treat our clients with medium to dark complexions. So long as your hair is darker than your skin tone, you hair is treatable. The Gentle Yag's longer wavelengths safely penetrate the skin down the shaft of the hair to destroy the hair follicle. You'll see a major difference after just your first session.
Who Will Perform My Laser Hair Removal Treatments?
Laser hair removal is a medical beauty treatment only performed by licensed technicians. All of our technicians have at least 5 years' experience in their field. You can be assured you will be well taken care of throughout your time with us.